7-Ingredient Dark Chocolate Coconut Almond Candies
Posted on 06.21.2017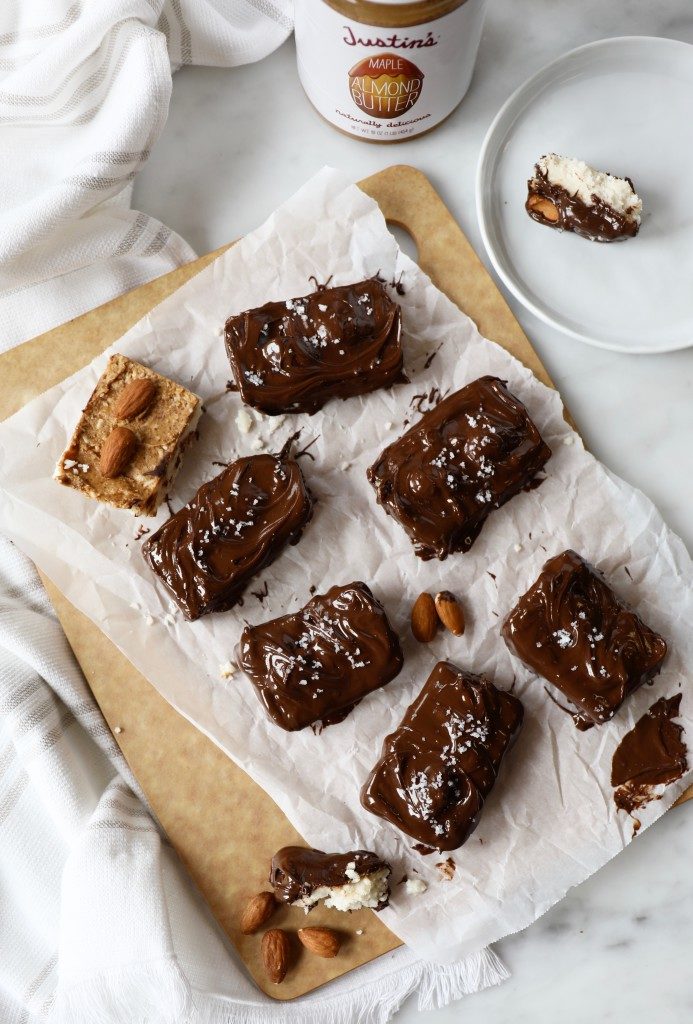 Get ready to whip up "the best thing you've ever made." And that direct quote is very serious. Someone walked into the kitchen, snatched one of these babies, looked me straight in the eye and said "this is the best thing you've ever made." To which I replied, "WHO SAID YOU COULD HAVE ONE OF THOSE?!" Juuuuuuust kidding. I said thank you. Then I asked, "can I quote you on that?" And here we are…
It all started when I had a bunch of coconut I didn't know what to do with. Over the years I've learned that adding almond butter and chocolate to anything is ALWAYS a good idea. So, that's what I decided to do. I also wanted to keep this recipe as simple as possible. Really didn't want to mess with a ton of ingredients. Here we have 7. Felt pretty lucky.
The first thing you'll want to do is make sure your coconut butter is nice and spreadable. Zap it in the microwave for a few seconds if it's too hard before mixing it with the coconut (I used the unsweetened kind).
I could pretty much eat this filling straight up with a spoon, but use your will power and keep going with the rest of the recipe. Promise it's worth it.
Once you press the coconut mixture into the dish, spread a nice even layer of almond butter on top. Highly recommend Maple Almond Butter here (duh). That sweet-salty nuttiness with the coconut and the dark chocolate and the sea salt. Hubba, hubba.
Now, this dessert is already crazy easy, but if you want to make it easier, you could totally stop right here and throw some melted chocolate on top and call it a day. But listen, you should keep going. Delicately place 16 almonds on top and press into the almond butter. Pop 'em in the fridge for an hour or so, then slice them up into eight pieces.
Take this time to admire the work you've done so far. Scroll through Instagram. Sip some coffee. You deserve it.
Now for the fun part. Not that this hasn't all been fun, but get ready. There's no need to be graceful here. It's melted chocolate. It will get messy. It will taste delicious. Pour it on, let it drip, lick your fingers. I mean, don't. That's, errrr…gross. I would nevvverrrr do that. Don't look at me like that.
Sprinkle with flaky sea salt. This is critical. Do not, I repeat, DO NOT skip the sea salt. Use all of the patience inside of you to let the chocolate harden. This will be difficult. Just walk away. Then you may come back and enjoy the fruits (well, candies) of your labor. Bravo.
P.S. These sweet thangs are gluten free and can be dairy free if you use vegan chocolate chips. Whoop whoop!