Almond Butter Rice Crispy Treats with Dark Chocolate & Sea Salt
Posted on 01.10.2015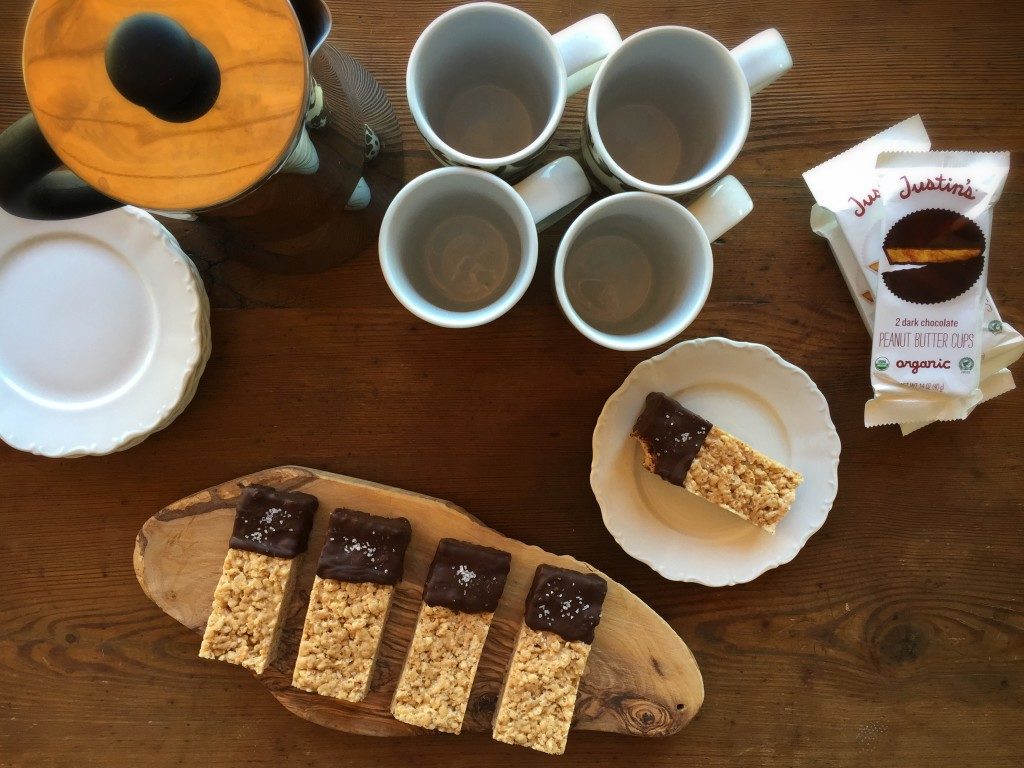 Want to know my secret to entertaining on the fly?  Always have an easy peasy, go-to recipe on hand so good that people will think you've been prepping for days. This is mine. It may sound completely oxymoronic, but these Almond Butter Rice Crispy Treats are crispy and chewy, sweet and salty, AND crunchy and creamy. I kid you not. They aren't overly sweet and have the perfect balance of textures to satisfy any craving.
Ok, confession time- this pan lasted all of 5 minutes in my house. Did I mention I live alone? Just kidding, I shared…a couple.
What I also love about these (but seriously, what's not to love?) is that they are super customizable. You can cut them into squares and drizzle the melty dark chocolate all over, so each bite gets a punch of cocoa goodness. Or, you can create finger-friendly rice crispy sticks and dip the ends into the chocolate. You can even dig out the cookie cutters and get all crazy with the shapes. Whatever suites your fancy. Hey, sometimes these babies don't even make it out of the mixing bowl into the pan. No judgment here.
Also, in terms of customization, note that these can easily be veganized. Just use vegan marshmallows and chocolate chips. P.S. Your non-vegan friends won't know the difference.
Ingredients:
1/2 Cup Justin's Nut Butter (we used Vanilla Almond Butter, but any flavor will work)
2 T. Coconut Oil
5 Cups Miniature Marshmallows
6 Cups Crispy Rice Cereal
3/4 Cup Dark Chocolate Chips
2 t. Sea Salt
Instructions:
Combine Justin's Almond Butter and coconut oil in a large microwave-safe bowl. Microwave 45-60 seconds or until mixture melts. Add marshmallows and microwave another 60-90 seconds until smooth, stirring every 30 seconds. Add cereal to almond butter mixture; toss until well-combined. Press mixture into a greased 13" x 9" baking pan. Cool slightly; cut into 24 pieces.
Place dark chocolate chips in a small microwave-safe bowl. Microwave at high 30 seconds or until chips melt. Dip crispy rice bars into melted chocolate or drizzle evenly over the top. Sprinkle chocolate with sea salt.
Is is snack time yet?