Peanut Butter Balls
Posted on 12.19.2014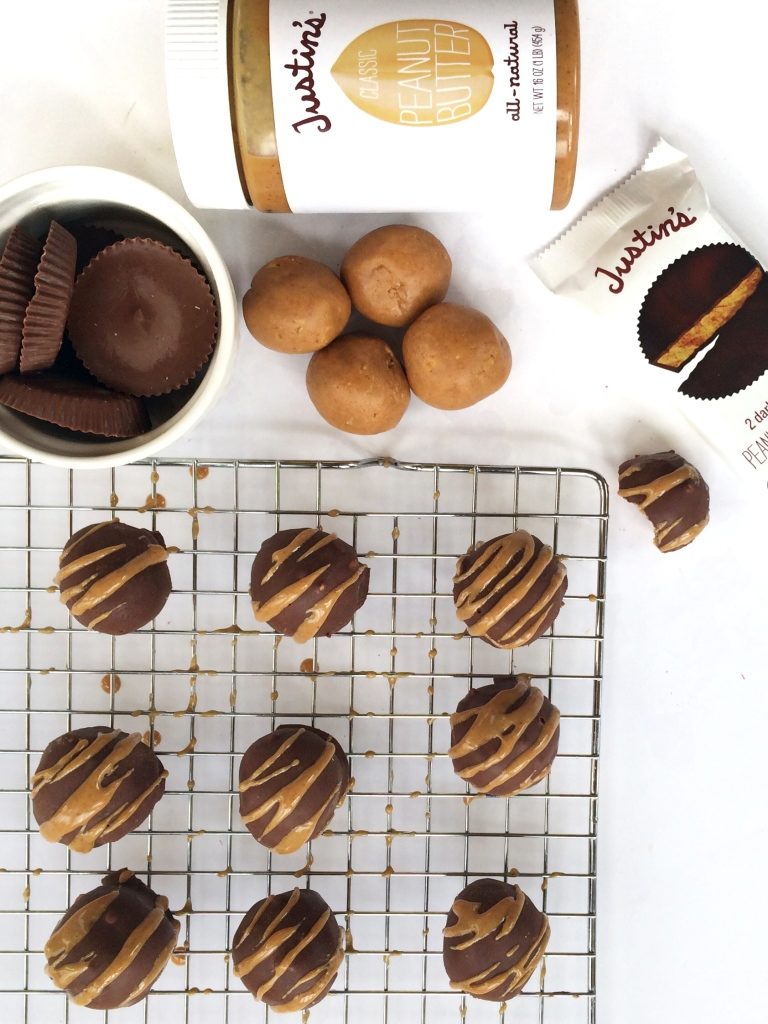 When I think about the holidays, I reminisce about my grandmother's famous peanut butter balls. Think rich and creamy, melt-in-your-mouth candies full of butter and powdered sugar. Oh, yes. These were the kind of treats that were so easy to pop in your mouth, I could easily down ten of them and not think twice. That is, until your head started to spin. Well, this year, I decided to try a twist on Grandma's classic recipe. While, I can guarantee that her first question would be "Where's the butter?!" one bite would erase any inkling of doubt. They're totally irresistible, and I feel a little less guilty about popping one (ok, maybe five) in my mouth. Hey, it happens. So, for your next holiday party, try these easy-to-make Peanut Butter Balls, featuring Justin's Classic Peanut Butter and Justin's Dark Chocolate Peanut Butter Cups. Grandma would be so proud.
Ingredients:
2 Cups Justin's Classic Peanut Butter
1/3 Cup Maple Syrup
¼ Cup Coconut Flour
½ Teaspoon Salt
2/3 Cup Gluten-Free Granola
6 Justin's Dark Chocolate Peanut Butter Cups
Instructions:
In a large bowl, combine peanut butter, syrup, coconut flour and salt. Mix well.
Add granola and stir until combined.
Form into bite sized balls and set aside.
In a double boiler, melt peanut butter cups over low heat, stirring frequently.
Using a fork, dip each peanut butter ball in the melted chocolate and place on a baking sheet lined with parchment paper.
Freeze the balls for 20 minutes or until chocolate is set.
Enjoy!