Peanut Butter Banana S'mores Bars
Posted on 07.29.2016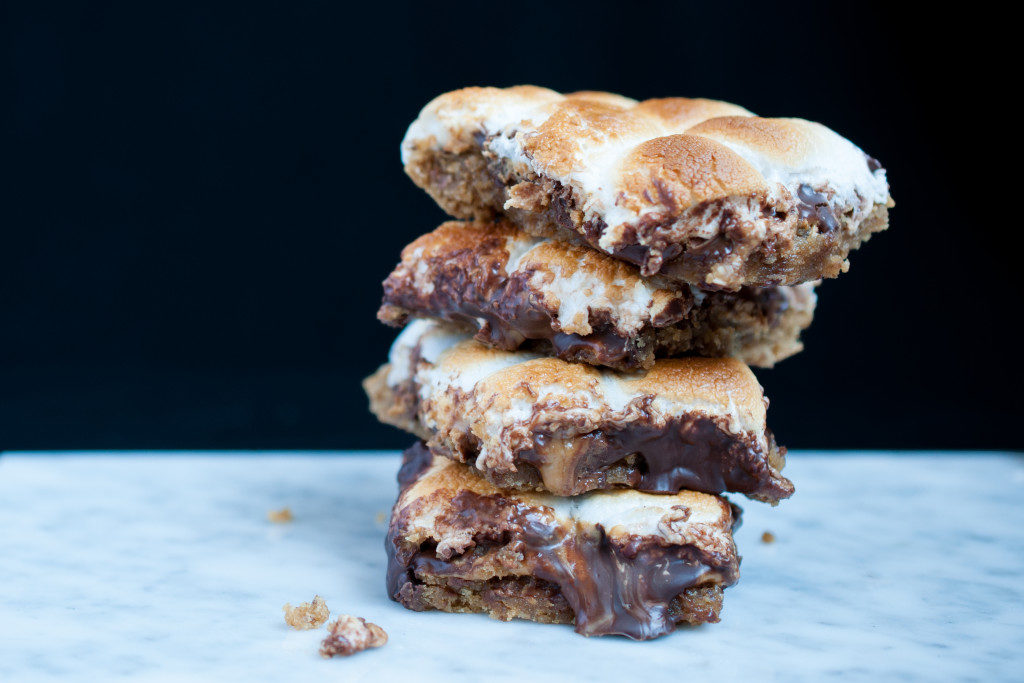 Please sir, I want s'more. Correction. I want ALL of the Peanut Butter Banana S'mores Bars. Let me at 'em, let me at 'em!
I'll confess that this recipe was kind of an accident. OK, not an accident, because they are flawless, but it was definitely a "let's wing it and see what happens" moment.
It all started when I was deciding what to do with my Skratch Labs Cookie Mix. It's so versatile and can magically turn into pretty much any kind of cookie that you are craving. The possibilities were a bit overwhelming. At first, I debated going for a classic chocolate chip cookie, but then I knew I had to try a version using nut butter. Duh. So, I swapped the traditional eggs and butter for peanut butter, flax and banana. Yep, they're vegan! Then, instead of rolling the dough into balls, I pressed it (well, most of it…I had to, you know, taste test) into a jellyroll pan. 
These peanut butter banana cookie bars baked up beautifully, but just you wait, I didn't stop there. While still warm, I spread a thin layer of Classic Peanut Butter on top and let it get all melty and delicious. Then, I topped the Peanut Butter with chopped Dark Chocolate Mini Peanut Butter Cups. Goodness gracious.
Now, if you really want to go for it, do what I did and top the Peanut Butter Cups with some vegan marshmallows. Doooooo it.
Pop the pan under the broiler for a few seconds until the marshmallows are nice and toasty. Boom! Did I mention these are instant friend-magnets? Because they are. Ooey gooey chocolate peanut buttery bars with all deliciousness of s'mores minus the campfire. I think my work here is done.
Peanut Butter Banana S'mores Bars (Vegan!)
Ingredients:
1 box Skratch Labs Cookie Mix
3/4 cup Justin's Peanut Butter, divided
1 tablespoon ground flax seed + 2 tablespoons warm water
5 tablespoons water
1 banana, mashed
10 Justin's Mini Dark Chocolate Peanut Butter Cups or 6 full-sized Peanut Butter Cups (3 packages), chopped
10 oz. bag vegan marshmallows (like Dandies!)
Instructions:
Preheat the oven to 350°F degrees.
Mix the ground flax seed with the water let sit for 2-3 minutes.
In a large bowl, combine cookie mix, 1/2 cup peanut butter, water, banana and flax mixture. Stir until fully combined.
Press cookie dough into the bottom of a 9- x 13-inch jelly roll pan. Bake 10-14 minutes, or until golden brown.
While still warm, spread remaining 1/4 cup peanut butter over the bars and sprinkle with chopped peanut butter cups.
If using large marshmallows, cut each marshmallow in half vertically (mini marshmallows will work here too- no need to cut them in half). Line marshmallows on top of peanut butter cups and press down slightly.
Place pan back in the oven and broil 1 minute or less (watch closely!) until marshmallows are the perfect golden brown.
Slice 'em up and enjoy! Warning. They are messy. They are addicting.