PEANUT BUTTER "COOKIE DOUGH" BITES
Posted on 01.28.2016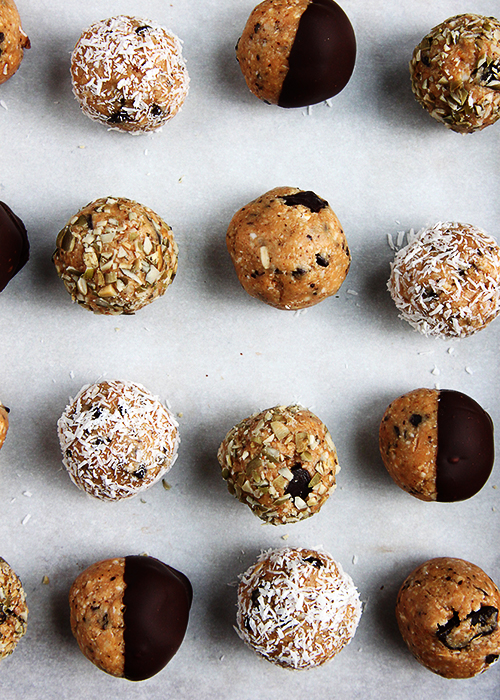 By: Melissa aka The Faux Martha
"Email is a wonderful thing for people whose role in life is to be on top of things. But not for me; my role is to be on the bottom of things. What I do takes long hours of studying and uninterruptible concentration." —Donald Knuth, a computer scientist
I added that quote to my email signature after Kev shared it with me. He knows my struggles. As of right now, the number 8855 is barely legible, set in white text on a red background, and hovering to the right of my email application. I'm a minimalist in most areas of life except my inbox. It's a complete disaster. It gives me hives when I think about it, so I don't. I have trouble pressing delete and unsubscribing from reoccurring emails. I mark every email as unread. And replies take at least a couple days for me to formulate my thoughts and sentiments. I live a paralyzed life when it comes to email.
Then one day in the jungle of my unkempt inbox, an email arrived from Justin's, and I fell in love with the modern invention of it all. I read it. Looked over my shoulder. Are they talking to me? Maybe they can see our Justin's-lined shelf in the pantry. A case of big brother? It had to be. I read the email again, marked it as unread, squealed, then starred it too.
A couple weeks later, I was in the mountains of Colorado rolling, not what you think, peanut butter bites with the Justin's team. It was a total high.
Short story long, I'm working with Justin's on a series of recipes and videos! Up first—these peanut butter "cookie dough" bites. Hallie calls them peanut buttah bahs. It's so cute, she weasels two out of us. They've carved a permanent home in our fridge drawer. And when they're out, I hear about it.
Coconut, peanut butter, honey, and chocolate chips are all it takes to bring these together. They're naturally sweet, landing in both the snack and dessert category, though we mostly eat them for dessert. It's our post-Christmas dessert detox. Every day after lunch, Hal places her clasped hands to the side of her tilted face. "Mom, a peanut buttah bah?" You'll be tempted to halve the recipe, which you can easily do, but by day 4 when you're making them again, you'll regret that decision. Make a big batch.
Roll them in coconut shreds, pistachios, pepita seeds, melted chocolate, salty pretzels, nothing, or whatever else you dream up. These balls are so flexible and fun. Bites. I meant bites.
PEANUT BUTTER "COOKIE DOUGH" BITES
INGREDIENTS
3 1/2 c. unsweetened shredded coconut
2/3 c. mini chocolate chips or finely chopped chocolate bar
1/2 c. honey
1 tsp. pure vanilla extract
1/4 tsp. kosher salt (optional)
shredded fine coconut
nuts or seeds, chopped
pretzels, crushed
INSTRUCTIONS
In a food processor or high-powered blender, pulse coconut shreds into a fine powder. This will vary from 30 seconds to 2 minutes depending on the machine.
Empty out into a large bowl. Add in Justin's® peanut butter, mini chocolate chips, honey, vanilla, and salt. Stir until evenly combined and a dough-like consistency is formed. Pop in the fridge for 5-10 minutes to firm up. Meanwhile, line a baking sheet with parchment paper. Set aside. Prep toppings as desired, and place in small bowls.
Remove "dough" from fridge. Using a tablespoon-sized spring release scoop, scoop bites. Roll between palms and place on baking sheet to make completely round. Repeat.
Dunk or roll balls into toppings as desired.
Store in an airtight container in the fridge for up to a week or so.
NOTES
• Sometimes I substitute 1 1/2 cups oats for 1 1/2 cups coconut to change things up and add a little fiber, still using the other 2 cups of coconut to equal 3 1/2 cups. These bites are super versatile. Add your spin where you see fit!
Recipe developed by  Justin's.