Vegan [No-Churn] Maple Almond Butter Cheesecake Ice Cream
Posted on 07.29.2015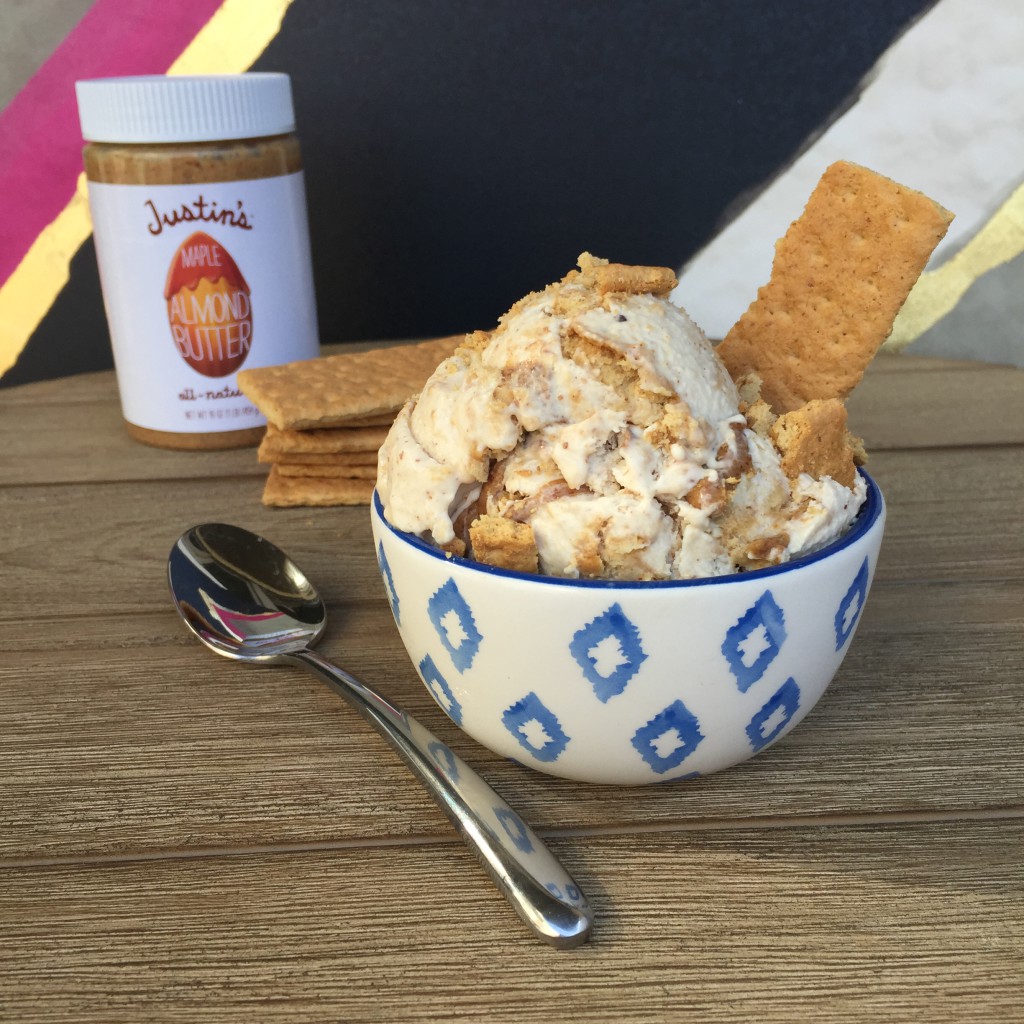 Maple Almond Butter Cheesecake Ice Cream. I mean, c'mon. You can't hear me, but I'm screaming right now (with joy, of course). I scream, you scream, right? Let me tell you, this recipe is worth shouting from the rooftops. Count me in for any easy almond butter recipe that:
-Is totally fool-proof.
-Does NOT require an ice cream maker.
-Is super customizable.
-Is VEGAN!
That's right, people. NO dairy or eggs in this sweet snack. It's not always easy to find healthy desserts and vegan treats that satisfy your craving for something cool, creamy and delicious.  Does the thought of Maple Almond Butter, cheesecake and ice cream all in one just blow your mind? Yeah, me too.
If you were not aware, I'm an ice cream fanatic, but I don't have one of those fancy schmancy ice cream makers, so I thought making my own would be impossible. What's that thing everyone always says? Oh yeah, ANYTHING is possible. Dream on and ice cream on. No churning required.
Ingredients:
-8 oz Vegan Cream Cheese
-4 oz Dairy-Free Vanilla Yogurt
-1/3 Cup Justin's Maple Almond Butter
-1/2 teaspooon Almond Extract
-1 Can Coconut Milk
-16 oz. Dairy-Free Coconut Whipped Cream
-2 Cups Crushed Graham Crackers
Instructions:
In a large bowl with an electric mixer, beat cream cheese, yogurt, almond butter, almond extract and coconut milk until fully combined. Fold in whipped topping.
Add crushed graham crackers into the ice cream mixture and gently stir to combine.
Place mixture into a large bowl or container, cover, and freeze at least 8 hours. Enjoy!
And once you master the basic recipe, go ahead and get a little nutty with your mix-ins. Swap the almond butter for peanut butter or chocolate hazelnut butter. Try chocolate cookies or brownie pieces instead of graham crackers. Ok, I'll stop, my mind is spinning with the possibilities over here.